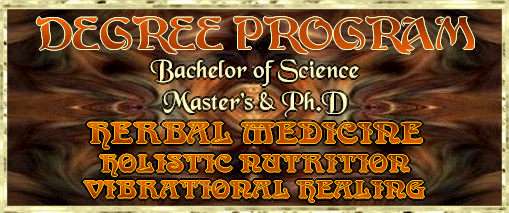 During my 46 years as a practicing herbalist, I have searched worldwide for any available comprehensive study programs that would satisfy my thirst for extensive knowledge on the subjects of herbs and herbal medicine, holistric nutrition and vibrational healing. Unfortunately, my efforts were in vain as no such program exists even to this day. I then began to research the possibility of developing such a program, and I soon discovered the availability of immense resources of information in a local naturopathic college library. In addition, I purchased hundreds of herbal, vibrational and nutritional texts.
During the past 30 years, I have painstakingly compiled a comprehensive database from which I could begin to develop a number of courses that would eventually be transformed into Bachelor of Science, Masters and Ph.D. degree programs. I have prepared a comprehensive course prospectus in order to provide a detailed description of its overall content for those of you who are interested in such a program. At this time, several of the courses outlined in the prospectus below have been completed, while others are currently in various stages of development.
The Bachelor of Science program is currently being designed as a 6-year course of study, along with postgraduate studies on the Masters and Ph.D. levels. This entire program includes the study of general medical philosophy (4 courses), herbal history and medical philosophy (5 courses), herbal pharmacognosy (4 courses), phytochemistry (2 courses), pharmacodynamics (2 courses), herbal pharmacy (3 courses), plant drug materia medica (7 courses), herbal therapeutics (6 courses), nutritional philosophy and physiology (2 courses), human nutritional requirements (2 courses), nutritional pharmacology (2 courses), toxicity and detoxification (1 course), nutritional pediatrics (1 course), nutritional therapeutics (4 courses), philosophy and history of vibrational healing (2 courses), principles and techniques of vibrational healing (3 courses), vibrational medicine (3 courses), aromatherapy (2 courses), and various other related studies (5 courses).
In addition, the postgraduate studies include a dissertation (Master's) and a thesis (Ph.D.).
A copy of my 292-page course prospectus is currently available for $40 U.S., and may be viewed here.

It is my hope that this prospectus will provide you with a better understanding of the overall scope of this project. Upon its completion, this program will be submitted for accreditation by the appropriate State licensing agencies. Further updates regarding this process will be made available to you in the future.


Yours in good health,

Joseph