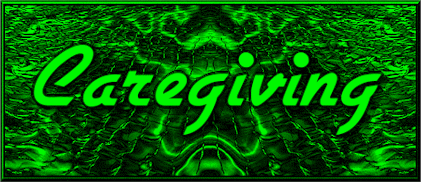 Press the ADD button located beneath each book on this page that you wish to place in your shopping cart. Press the VIEW button in order to review the book-titles that you have already selected.


INDICATES A BEST SELLER IN THIS CATEGORY

36-HOUR DAY:
A FAMILY GUIDE TO CARING FOR PERSONS
WITH
ALZHEIMER'S DISEASE & RELATED ILLNESS
by M. & P. Rabins
$6.50


ALZHEIMER'S:
A CAREGIVER'S GUIDE AND SOURCEBOOK
by Howard Gruetzner
$15.95


ANGELS IN OUR MIDST
(with 80 black & white photographs)
(Hardcover)
by Mary Fisher
$24.95


BEING HUMAN IN THE FACE OF DEATH
by Deborah Roth et al (Eds.)
$9.95


BELOVED STRANGER:
REFLECTIONS ON MENTAL ILLNESS ---
HOW FRIENDS & FAMILIES EXPERIENCE LONELINESS
by Mary Brust Heaney
$11.95


CAREGIVER'S COMPANION:
WORDS TO COMFORT & INSPIRE
by Betty Clare Moffatt
$12.00


CAREGIVER'S HANDBOOK:
A PRACTICAL GUIDE
TO
LOOKING AFTER SICK, DISABLED & ELDERLY PEOPLE
by the Visiting Nurse Associations
$14.95


CAREGIVER'S REPRIEVE:
A GUIDE TO EMOTIONAL SURVIVAL
WHEN YOU'RE CARING FOR SOMEONE YOU LOVE
by Avrene L. Brandt
$11.95


CAREGIVING:
HOSPICE-PROVEN TECHNIQUES
FOR
HEALING BODY & SOUL
(w/a Bill of Patient's Rights)
by Douglas C. Smith
$14.95


CAREGIVING:
THE SPIRITUAL JOURNEY
OF
LOVE, LOSS & RENEWAL
by Beth Witrogen McLeod
$22.95


CARING FOR LOVED ONES AT HOME:
AN ILLUSTRATED GUIDE...
by Harry Van Bommel
$7.95


CARING FOR PARENTS WHO CARED FOR YOU
(Hardcover)
by Kenneth P. Scileppi
$21.95


CARING FOR THE PARKINSON PATIENT:
A PRACTICAL GUIDE
(foreword by Nathan Slewett)
by J. Hutton & R. Dippel (Ed.)
$19.95


CARING FOR YOURSELF
WHILE CARING FOR YOUR AGING PARENTS:
HOW TO HELP, HOW TO SURVIVE
by Claire Berman
$12.95


CARING FROM THE HEART:
THE CONVERGENCE OF CARING & SPIRITUALITY
by M. Simone Roach (Ed.)
$14.95


CHEMOTHERAPY AND RADIATION THERAPY
SURVIVAL GUIDE:
INFORMATION, SUGGESTIONS & SUPPORT
by Judith McKay et al
$14.95


COMA:
A HEALING JOURNEY ---
A GUIDE FOR FAMILY, FRIENDS & HELPERS
(with 86 line drawings)
by Amy Mindell
$21.00


COMPLETE BEDSIDE COMPANION:
A NO-NONSENSE GUIDE
ON
CARING FOR THE SERIOUSLY ILL
(Hardcover)
by Rodger McFarlane & P. Bashe
$27.00



CRANBERRY CIRCUS!


THE HOW-TO BOOK FOR HOME HEALTH CARE
by Ki Ki Dowd
$14.95


DON'T PUT ME IN A NURSING HOME!
DR. AMARNICK RESPONDS
TO
EVERY ELDER'S SILENT PLEA
by Claude Amarmck
$13.95


DYING TIME (THE):
PRACTICAL WISDOM
FOR
THE DYING & THEIR CAREGIVERS
by Joan Furman & David McNabb
$14.00



ETHICS OF CARING:


HONORING THE WEB OF LIFE
IN
OUR PROFESSIONAL HEALING RELATIONSHIPS
by Kylea Taylor
$20.95


FACING DEATH AND FINDING HOPE:
A GUIDE
TO
THE EMOTIONAL & SPIRITUAL CARE OF THE DYING
by Christine Longaker
$12.95


FAMILY CAREGIVER'S GUIDE:
PLANNING & DECISION-MAKING FOR THE ELDERLY
by James A. Wilkinson
$16.95



FINAL GIFTS:


UNDERSTANDING THE SPECIAL AWARENESS,
NEEDS & COMMUNICATIONS OF THE DYING
by Maggie Callanan & P. Kelley
$11.95


GENTLECARE:
CHANGING THE EXPERIENCE
OF
ALZHEIMER'S DISEASE IN A POSITIVE WAY
by Moyra Jones
$29.95


GIFTS FROM THE HEART:
MEDITATIONS ON CARING FOR AGING PARENTS
by Bonni Goldberg & G. Kendall
$12.95


HOSPICE CHOICE:
IN PURSUIT OF A PEACEFUL DEATH
by Marcia Lattanzi-Licht et al
$12.00


HOW TO BE A HELP INSTEAD OF A NUISANCE:
PRACTICAL APPROACHES TO GIVING SUPPORT...
TO OTHERS
by Karen Kissel Wegela
$14.00


HOW YOU CAN SURVIVE WHEN THEY'RE DEPRESSED:
LIVING & COPING WITH DEPRESSION FALLOUT
(Hardcover)
by Anne Sheffield
$24.00


I DON'T KNOW WHAT TO SAY...:
HOW TO HELP & SUPPORT SOMEONE WHO IS DYING
by Robert Buckman
$13.00


IN SICKNESS AND IN HEALTH:
A COMPASSIONATE GUIDE
TO
SURVIVING YOUR SPOUSE'S CHRONIC ILLNESS
by Chris McGonigle
$13.95


INSPIRATIONS FOR CAREGIVERS
by Caryn Lea Summers (Ed.)
$9.95


JUST A BREATH AWAY:
TELL ME HOW TO DIE, I'VE NEVER DONE THIS BEFORE
by Edward Tobbitas
$14.95


LAUREL'S KITCHEN CARING:
WHOLE-FOOD RECIPES
FOR
EVERYDAY HOME CAREGIVING
by Laurel Robertson et al
$12.95


LIVING WITH MULTIPLE SCLEROSIS:
A HANDBOOK FOR FAMILIES
by Robert Shuman & J. Schwartz
$12.95


MENTAL ILLNESS FOR CAREGIVERS
by Irving G. Walmann
$9.95


RED RIBBONS ARE NOT ENOUGH:
CAREGIVERS' STORIES ABOUT AIDS
by Meredith Drench
$14.95


STAY CLOSE AND DO NOTHING:
A SPIRITUAL & PRACTICAL GUIDE
TO
CARING FOR THE DYING AT HOME
(Hardcover)
by Merrill Collett
$22.95


TO DIE WELL:
A HOLISTIC APPROACH
FOR
THE DYING & THEIR CAREGIVERS
(with color photos throughout)
by Richard Roech
$15.00


TRUE WORK OF DYING:
A PRACTICAL & COMPASSIONATE GUIDE
TO
EASING THE DYING PROCESS
by Jan S. Bernard et al
$12.00


VISITS:
CARING FOR AN AGING PARENT ---
REFLECTIONS & ADVICE
by Lee Ann Chearney
$10.00


WHAT THE DYING TEACH US:
LESSONS ON LIVING
by Samuel Lee Oliver
$14.95


WHAT TO DO WHEN SOMEONE YOU LOVE IS DEPRESSED:
PRACTICAL...GUIDE FOR CAREGIVERS
by Mitch & Susan K. Golant
$11.95


WHEN SOMEONE DIES:
WHAT YOU CAN DO ---
PRACTICAL INFORMATION & CHECKLISTS
by Phyllis Davies
$6.00


WHEN SOMEONE IS SERIOUSLY ILL:
WHAT YOU CAN DO ---
PRACTICAL INFORMATION & CHECKLISTS
by Phyllis Davies
$5.00


WHEN SOMEONE YOU LOVE HAS ALZHEIMER'S:
THE CAREGIVER'S JOURNEY
by Earl A. Grollman et al
$12.00


WHEN SOMEONE YOU LOVE HAS CANCER:
WHAT YOU MUST KNOW, WHAT YOU CAN DO,
WHAT YOU SHOULD EXPECT
by Suzanne LeVert
$4.99