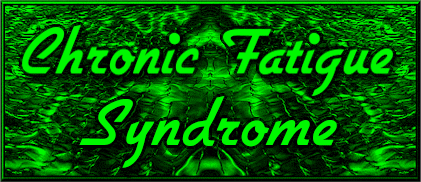 Press the ADD button located beneath each book on this page that you wish to place in your shopping cart. Press the VIEW button in order to review the book-titles that you have already selected.


INDICATES A BEST SELLER IN THIS CATEGORY

ALCHEMY OF ILLNESS
by Kat Duff
$11.00



ALTERNATIVE MEDICINE GUIDE


TO
CHRONIC FATIGUE, FIBROMYALGIA
&
ENVIRONMENTAL ILLNESS
by Burton Goldberg et al
$18.95


AMERICA EXHAUSTED:
BREAKTHROUGH TREATMENTS
OF
FATIGUE & CHRONIC FATIGUE SYNDROME
by Edward J. Conley
$14.95


BETRAYAL BY THE BRAIN:
NEUROLOGIC BASIS
OF
CHRONIC FATIGUE SYNDROME,
FIBROMYALGIA SYNDROME...
by Jay A. Goldstein
$24.95



BOUNDLESS ENERGY:


THE COMPLETE MIND/BODY PROGRAM
FOR
OVERCOMING CHRONIC FATIGUE
by Deepak Chopra
$12.00


CANDIDIASIS AND CHRONIC FATIGUE SYNDROME:
WHAT YOU NEED TO KNOW ABOUT
by Kurt W. Donsbach
$3.95


CHRONIC EMOTIONAL FATIGUE:
WHY IT AFFECTS YOUR MIND & BODY...
HOW YOU CAN STOP IT!
by Billie Jay Sahley
$3.95


CHRONIC FATIGUE SELF HELP BOOK
by Susan M. Lark
$16.95


CHRONIC FATIGUE SYNDROME:
A GUIDE TO ORTHODOX & COMPLEMENTARY TREATMENT
(Natural Way Series)
by Gill Jacobs
$5.95


CHRONIC FATIGUE SYNDROME:
A VICTIM'S GUIDE
TO
UNDERSTANDING, TREATING & COPING WITH IT
by Gregg Fisher et al
$10.99


CHRONIC FATIGUE SYNDROME:
A.I.D.S & IMMUNE DYSFUNCTION DISEASE ---
THE CAUSE & THE CURE
by Suzann Angelus
$15.95


CHRONIC FATIGUE SYNDROME:
HOW YOU CAN BENEFIT
FROM
DIET, VITAMINS, MINERALS, HERBS & EXERCISE
by Michael Murray
$11.00


CHRONIC FATIGUE SYNDROME:
THE HIDDEN EPIDEMIC
by J. Stoff & C. Pellegrino
$14.00



CHRONIC FATIGUE SYNDROME


AND
THE YEAST CONNECTION
by William G. Crook
$16.95


CHRONIC FATIGUE SYNDROME COOKBOOK:
DELICIOUS & WELLNESS ENHANCING RECIPES...
by Mary Hale & Chris Miller
$12.95


FATIGUE SYNDROMES:
CANDIDA ALBICANS, FIBROMYALGIA,
CHRONIC FATIGUE SYNDROME & MORE
by Linda Rector-Page
$3.50



FROM FATIGUED TO FANTASTIC!


A MANUAL FOR MOVING BEYOND
CHRONIC FATIGUE & FIBROMYALGIA
by Jacob Teitelbaum
$11.95


KNOWING ME:
WOMEN SPEAK ABOUT MYALGIC ENCEPHALOMYELITIS
&
CHRONIC FATIGUE SYNDROME
by Caeia March (Ed.)
$17.95



REBELLIOUS BODY:


RECLAIM YOUR LIFE FROM ENVIRONMENTAL ILLNESS
OR
CHRONIC FATIGUE SYNDROME
by Janice Strubbe Wittenberg
$20.95


RECOVERING FROM CHRONIC FATIGUE SYNDROME:
A GUIDE TO SELF-EMPOWERMENT
by William Collinge
$13.95


RUNNING ON EMPTY:
CHRONIC FATIGUE IMMUNE DYSFUNCTION SYNDROME
by Katrina Berne
$14.95


SOLVING THE PUZZLE OF CHRONIC FATIGUE SYNDROME
by Michael Rosenbaum et al
$14.95


TIRED ALL THE TIME:
THE COMMON CAUSES OF FATIGUE
&
HOW TO ACHIEVE OPTIMUM HEALTH
by Alan Stewart
$14.95


WHEN SLEEPING BEAUTY WAKES UP:
A WOMAN'S TALE OF HEALING THE IMMUNE SYSTEM...
by Patt Lind-Kyle
$14.95