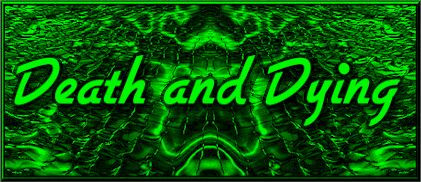 Press the ADD button located beneath each book on this page that you wish to place in your shopping cart. Press the VIEW button in order to review the book-titles that you have already selected.


INDICATES A BEST SELLER IN THIS CATEGORY

ALL OF US:
AMERICANS TALK ABOUT THE MEANING OF DEATH
by Patricia Anderson
$12.95


ART OF DYING:
HOW TO LEAVE THIS WORLD WITH DIGNITY & GRACE...
(foreword by Bernie Siegel)
by Patricia Weenolsen
$13.95


AS SOMEONE DIES:
A HANDBOOK FOR THE LIVING
by Elizabeth A. Johnson
$7.95


BE WITH ME:
A BOOK OF PRAYERS
TO
COMFORT DYING PERSONS & THEIR LOVED ONES
(pocket-sized)
by Maureen Rinella
$4.95


BEING HUMAN IN THE FACE OF DEATH
by Deborah Roth et al (Eds.)
$9.95


BOOK ABOUT DYING:
PREPARING FOR ETERNAL LIFE
by Robert H. Kirven
$12.95


CANCER AND FAITH:
REFLECTIONS ON LIVING WITH A TERMINAL ILLNESS
by John T. Carmody
$9.95


CAREGIVING:
HOSPICE-PROVEN TECHNIQUES
FOR
HEALING BODY & SOUL
(with a Bill of Patient's Rights)
by Douglas C. Smith
$14.95



CLOSE TO THE BONE:


LIFE-THREATENING ILLNESS
&
THE SEARCH FOR MEANING
by Jean Shinoda Bolen
$11.00


COMA:
A HEALING JOURNEY ---
A GUIDE FOR FAMILY, FRIENDS & HELPERS
(with 86 line drawings)
by Amy Mindell
$21.00


COMA:
THE DREAMBODY NEAR DEATH
(formerly COMA: THE KEY TO AWAKENING)
by Arnold Mindell
$10.95


CONSCIOUS DYING:
PSYCHOLOGY OF DEATH & GUIDEBOOK TO LIBERATION
by Benito F. Reyes
$13.75


COURAGE TO LAUGH:
RUMOR, HOPE & HEALING
IN
THE FACE OF DEATH & DYING
by Allen Klein
$14.95


DEATHING:
AN INTELLIGENT ALTERNATIVE
FOR
THE FINAL MOMENTS OF LIFE
by A. Foos-Graber
$14.95


DENIAL OF THE SOUL:
SPIRITUAL & MEDICAL PERSPECTIVES
ON
EUTHANASIA & MORTALITY
by M. Scott Peck
$14.00


DYING TIME (THE):
PRACTICAL WISDOM
FOR
THE DYING & THEIR CAREGIVERS
by Joan Furman & David McNabb
$14.00


DYING WELL:
PEACE & POSSIBILITIES AT THE END OF LIFE
by Ira Byock
$14.00


EXPERIENCE OF A LIFETIME:
LIVING FULLY, DYING CONSCIOUSLY
by Carolyn North
$17.95


EXPLORING LIFE'S LAST FRONTIER:
THE WORLD OF DEATH, DYING & LETTING GO
by Heather A. Harder
$15.95


FACING DEATH AND FINDING HOPE:
A GUIDE TO THE EMOTIONAL & SPIRITUAL CARE
OF
THE DYING
by Christine Longaker
$12.95



FINAL GIFTS:


UNDERSTANDING THE SPECIAL AWARENESS, NEEDS
&
COMMUNICATIONS OF THE DYING
by Maggie Callanan & P. Kelley
$11.95


FINAL PASSAGE:
SHARING THE JOURNEY AS THIS LIFE ENDS
by Barbara Harris Whitfield
$10.95


GOOD DEATH (THE):
THE NEW AMERICAN SEARCH
TO
RESHAPE THE END OF LIFE
(Hardcover)
by Marilyn Webb
$24.95


GOOD DEATH (THE):
THE NEW AMERICAN SEARCH
TO
RESHAPE THE END OF LIFE
by Marilyn Webb
$15.95


GOOD DYING:
SHAPING HEALTH CAPE FOR THE LAST MONTHS OF LIFE
by Joan Harrold et al (Eds.)
$19.95


GRACE AND GRIT:
SPIRITUALITY & HEALING
IN
THE LIFE & DEATH OF TREYA KILLAM WILBER
by Ken Wilber
$19.95


GRACE IN DYING:
HOW WE ARE TRANSFORMED IN THE PROCESS OF DYING
(Hardcover)
by Kathleen D. Singh
$22.00


HEALING THE DYING
(Nurse As Healer Series)
by Melody Olson
$20.95


HOSPICE CHOICE:
IN PURSUIT OF A PEACEFUL DEATH
by Marcia Lattanzi-Licht et al
$12.00


HOW WE DIE:
REFLECTIONS ON LIFE'S FINAL CHAPTER
by Sherwin B. Nuland
$14.00


I DON'T KNOW WHAT TO SAY...:
HOW TO HELP & SUPPORT SOMEONE WHO IS DYING
by Robert Buckman
$13.00


INTIMATE DEATH:
HOW THE DYING TEACH US HOW TO LIVE
by Marie De Hennezel
$12.00


JUST A BREATH AWAY:
TELL ME HOW TO DIE, I'VE NEVER DONE THIS BEFORE
by Edward Tobbitas
$14.95


LANGUAGE OF THE HEART:
THE RITUALS, STORIES & INFORMATION ABOUT DEATH
by Carolyn Pogue
$14.95


LAST PASSAGE:
RECOVERING A DEATH OF OUR OWN
(Hardcover)
by Donald Heinz
$27.50


LAST WISH
by Betty Rollin
$12.00


LESSONS FROM THE DYING
by Rodney Smith
$16.95


LETTING GO:
MORRIE'S REFLECTIONS ON LIVING WHILE DYING
by Morrie Schwartz
$9.95


LIFE TO DEATH:
HARMONIZING THE TRANSITION ---
A HOLISTIC & MEDITATIVE APPROACH...
by Richard Boerstler et al
$14.95


LIVING IN THE FACE OF DEATH:
ADVICE FROM THE TIBETAN MASTERS
(foreword by Elisabeth Kubler-Ross)
by Glenn Mullin
$16.95


LIVING OUR DYING:
A WAY TO THE SACRED IN EVERYDAY LIFE
by Joseph Sharp
$10.95


LIVING WITH THE END IN MIND:
A PRACTICAL CHECKLIST
FOR
LIVING LIFE TO THE FULLEST...
by Erin Tierney Kramp et al
$12.00


LIVING YOUR DYING
by Stanley Keleman
$8.95


LOVE AND ROSES FROM DAVID:
A LEGACY OF LIVING & DYING
by Robert J. Grant
$12.95


LOVE HAS NO FEAR:
ONE COUPLE'S SEARCH FOR MEANING
by Joan Peterson
$12.95


LOVE IS THE LINK:
A HOSPICE DOCTOR SHARES HER EXPERIENCE
OF
NEAR-DEATH & DYING
by Pamela M. Kircher
$11.95


MANGO DAYS:
A TEENAGER FACING ETERNITY
REFLECTS ON THE BEAUTY OF LIFE
by Patty Smith
$11.95


MEETINGS AT THE EDGE:
DIALOGUES ON GRIEF & DYING
by Stephen Levine
$11.95


PARTING VISIONS:
USES & MEANINGS
OF
PRE-DEATH, PSYCHIC & SPIRITUAL EXPERIENCES
by Melvin Morse & Paul Perry
$6.99


PEACEFUL DYING:
STEP-BY-STEP GUIDE
TO PRESERVING YOUR
DIGNITY, CHOICE & INNER PEACE AT THE END
by Daniel R. Tobin & K. Lindsey
$14.00


PEACEFUL TRANSITION:
THE ART OF CONSCIOUS DYING
&
THE LIBERATION OF THE SOUL
by Bruce Goldberg
$12.95


PERFECT ENDINGS:
A CONSCIOUS APPROACH TO DEATH & DYING
by Robert Sachs
$12.95


PHYSICIAN ASSISTED SUICIDE:
EXPANDING THE DEBATE
by Margaret Battin et al (Eds.)
$21.99


PREPARING FOR THE LOSS OF YOUR PET:
SAYING GOOD-BYE WITH LOVE, DIGNITY & PEACE OF MIND
by Myrna Milani
$15.95


RIGHTS OF THE DYING:
A COMPANION FOR LIFE'S FINAL MOMENTS
by David Kessler
$13.00


SEDUCED BY DEATH:
DOCTORS, PATIENTS & ASSISTED SUICIDE
by Herbert Hendin
$14.95


STAY CLOSE AND DO NOTHING:
A SPIRITUAL & PRACTICAL GUIDE
TO
CARING FOR THE DYING AT HOME
(Hardcover)
by Merrill Collett
$22.95


SURVIVING DEATH:
ETERNAL CONSCIOUSNESS
&
THE SELF PERPETUATING UNIVERSE
by J. Robert Adams
$14.95


TAKING STOCK:
A SOULS JOURNEY
THROUGH
LIFE, DEATH & THE WORLD OF INVESTMENT
by Michael R. Norwood
$12.95


TAO OF DYING:
A GUIDE TO CARING
(photographs by Marilee Pittman)
by Doug Smith
$12.50


TO DIE WELL:
A HOLISTIC APPROACH
FOR
THE DYING & THEIR CAREGIVERS
(with color photos throughout)
by Richard Roech
$15.00


TO LIVE UNTIL WE SAY GOODBYE
by Elisabeth Kubler-Ross
$15.00


TOWARDS EVENING:
REFLECTIONS
ON
AGING, ILLNESS & THE SOUL'S UNION WITH GOD
by Mary Hope
$10.95


TRUE WORK OF DYING:
A PRACTICAL & COMPASSIONATE GUIDE
TO
EASING THE DYING PROCESS
by Jan S. Bernard et al
$12.00


WHAT THE DYING TEACH US:
LESSONS ON LIVING
by Samuel Lee Oliver
$14.95


WHEN A BABY DIES:
THE EXPERIENCE
OF
LATE MISCARRIAGE, STILLBIRTH & NEO-NATAL DEATH
by Nancy Kohner & Alix Henley
$15.00


WHEN SOMEONE DIES:
WHAT YOU CAN DO ---
PRACTICAL INFORMATION & CHECKLISTS
by Phyllis Davies
$6.00



WHO DIES?


AN INVESTIGATION OF CONSCIOUS LIVING AND DYING
by Stephen Levine
$12.95


WORKING IT THROUGH:
AN ELISABETH KUBLER-ROSS WORKSHOP
ON
LIFE, DEATH, & TRANSITION
by Elisabeth Kubler-Ross
$7.00


YOUR PERSONAL WILL:
A UNIQUE DO-IT-YOURSELF FORM
FOR
CONFIDENTIALLY STATING...PREFERENCES
by NSA
$9.95


ZEN OF LIVING AND DYING:
A PRACTICAL & SPIRITUAL GUIDE
by Philip Kapleau
$15.95