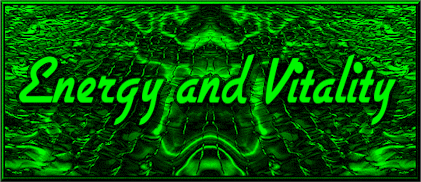 Press the ADD button located beneath each book on this page that you wish to place in your shopping cart. Press the VIEW button in order to review the book-titles that you have already selected.


INDICATES A BEST SELLER IN THIS CATEGORY

BALANCE (THE):
YOUR PERSONAL PRESCRIPTION
FOR
SUPERMETABOLISM, RENEWED VITALITY...
(Hardcover)
by Oz Garcia & Carol Coleman
$23.00


BOOST YOUR VITALITY WITH MELATONIN:
PROGRAMMING YOUR INTERNAL CLOCK
FOR
HEALTH & WELLBEING
by Ingeborg Cemaj
$10.95



BOUNDLESS ENERGY:


THE COMPLETE MIND/BODY PROGRAM
FOR
OVERCOMING CHRONIC FATIGUE
by Deepak Chopra
$12.00


CANARY AND CHRONIC FATIGUE
by Majid Ali
$20.00


ENERGY EDGE:
HOW TO KEEP PACE WITH YOUR LIFE
(Hardcover)
by Pamela Smith
$19.95


ENERGY MEDICINE:
BALANCE YOUR BODY'S ENERGIES
FOR
OPTIMAL HEALTH, JOY AND VITALITY
(Hardcover)
by Donna Eden & David Feinstein
$25.95


ENERGY NOW:
...GAIN VITALITY...BY UNLOCKING
THE ENERGY SECRETS OF THE EAST & WEST
by Emma Mitchell (Ed.)
$17.95


ENERGY UP!
SHED POUNDS, GAIN STAMINA, GET FIT...
WITH THIS UNIQUE PROGRAM
by High Voltage
$15.95


ENERGY UP!
SHED POUNDS, GET FIT, GAIN STAMINA
&
TURN ON YOUR POWER WITH THIS UNIQUE PROGRAM
by High Voltage
$23.95


FATIGUE
(New Self Help)
by Leon Chaitow
$6.00



FROM FATIGUED TO FANTASTIC!


A MANUAL
FOR
MOVING BEYOND CHRONIC FATIGUE & FIBROMYALGIA
by Jacob Teitelbaum
$11.95


HERBS FOR CHRONIC FATIGUE:
BOOST YOUR ENERGY & BANISH FATIGUE...
(Keats Good Herb Guide)
by Kathi Keville
$4.95


INCREASE YOUR ENERGY:
THE SCIENCE OF SMART LIVING
by Louis Proto
$8.95



JUMPSTART YOUR METABOLISM:


HOW TO LOSE WEIGHT & INCREASE YOUR ENERGY
THROUGH BREATHING...
by Pam Grout
$10.00


NATURAL ENERGY:
A CONSUMER'S GUIDE
TO
LEGAL, MIND-ALTERING & MOOD-BRIGHTENING HERBS
by Mark Mayell
$15.00


NATURAL ENERGY:
FROM TIRED TO TERRIFIC IN 10 DAYS
(Hardcover)
by Erika Schwartz & C. Colman
$22.95


NATURAL ENERGY BOOSTERS:
HUNDREDS OF ALL-NATURAL TIPS & TECHNIQUES
FOR
HIGH ENERGY LIVING
by Carlson Wade
$12.95


NATURALLY POWERFUL:
200 SIMPLE ACTIONS
TO
ENERGIZE BODY, MIND, HEART & SPIRIT
by Valerie Wells
$13.00


PEAK PERFORMANCE LIVING:
EASY, DRUG-FREE WAYS
TO
ALTER YOUR OWN BRAIN CHEMISTRY...
by Joel Robertson & Tom Monte
$13.00


POWERFOODS:
GOOD FOOD, GOOD HEALTH WITH PHYTOCHEMICALS,
NATURE'S OWN ENERGY BOOSTERS
by Stephanie Beling
$15.00


RADICAL REJUVENATION:
HOW YOU CAN LOOK YEARS YOUNGER,
FEEL TOTALLY REVITALIZED...
by Roxy Dillon
$13.95


SESAME:
THE SUPERFOOD SEED
&
HOW IT CAN ADD VITALITY TO YOUR LIFE
by Betty Kamen
$1.95


SLEEP MANAGEMENT PLAN:
A 6-STEP PLAN TO ADD HOURS TO YOUR WEEK
&
INCREASE YOUR ENERGY
by Dale Hanson Bourke
$5.50


SMART GUIDE TO BOOSTING YOUR ENERGY:
QUICK & EASY STRATEGIES FOR MAXIMIZING ENERGY
by Nancy Monson
$10.95


TIRED ALL THE TIME:
HOW TO REGAIN YOUR LOST ENERGY
by Ronald L. Hoffman
$14.00


TIRED ALL THE TIME:
THE COMMON CAUSES OF FATIGUE
&
HOW TO ACHIEVE OPTIMUM HEALTH
by Alan Stewart
$14.95


TIRED OF BEING TIRED:
OVERCOMING CHRONIC FATIGUE & LOW VITALITY
by Michael Schmidt
$14.95


WELLNESS:
SMALL CHANGES THAT YOU CAN USE
TO
MAKE A BIG DIFFERENCE
by John Travis & R. Ryan
$7.95


YOU DON'T HAVE TO GO HOME FROM WORK EXHAUSTED!
THE ENERGY ENGINEERING APPROACH
by Ann McGee-Cooper et al
$12.95


YOUNGER AT LAST:
A DOCTOR'S PROGRAM TO...
TAKE A DECADE OFF YOUR BIOLOGICAL AGE
(Hardcover)
by Steven Lamm & Gerald Couzens
$23.00