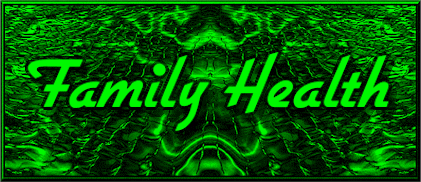 Press the ADD button located beneath each book on this page that you wish to place in your shopping cart. Press the VIEW button in order to review the book-titles that you have already selected.


INDICATES A BEST SELLER IN THIS CATEGORY

ADHD:
HOW TO DEAL WITH VERY DIFFICULT CHILDREN
by Alan Train
$12.95


CHEMOTHERAPY AND RADIATION THERAPY
SURVIVAL GUIDE:
INFORMATION, SUGGESTIONS & SUPPORT...
by Judith McKay et al
$14.95


COMPLETE BOOK OF FAMILY AROMATHERAPY
by Joan Radford
$11.95


COMPLETE FAMILY GUIDE TO HOMEOPATHY:
AN ILLUSTRATED ENCYCLOPEDIA OF SAFE...REMEDIES
(Hardcover)
by Christopher Hammond
$24.95


COMPLETE FAMILY GUIDE TO NATURAL HOME REMEDIES:
SAFE & EFFECTIVE TREATMENTS
by Karen Sullivan (Ed.)
$24.95



CRANBERRY CIRCUS!


THE HOW-TO BOOK FOR HOME HEALTH CARE
by Ki Ki Dowd
$14.95


ELEMENT FAMILY ENCYCLOPEDIA OF HEALTH:
REFERENCE GUIDE
TO
ALTERNATIVE & ORTHODOX DIAGNOSIS
by Rajendra Sharma
$24.95


FAMILY ENCYCLOPEDIA OF DISEASE:
COMPLETE GUIDE TO SYMPTOMS & ILLNESSES
(with 130 illustrations)
(Hardcover)
by Bryan Bunch (Ed.)
$29.95



FAMILY GUIDE TO HOMEOPATHY:


SYMPTOMS & NATURAL SOLUTIONS
by Andrew Lockie
$16.00


FAMILY GUIDE TO NATURAL THERAPIES:
EASY TO PREPARE REMEDIES
FOR
MORE THAN 120 HEALTH PROBLEMS
by Nancy Beckham
$12.95


FAMILY HEALTH FOR DUMMIES:
FUN & EASY WAY TO HELP THE WHOLE FAMILY
TAKE CHARGE OF THEIR HEALTH
by Charles B. Inlander et al
$19.99


FAMILY HERBAL
by P. & B. Theiss
$19.95


FAMILY HOMEOPATH:
SAFE, NATURAL & EFFECTIVE HEALTH CARE
FOR
YOU & YOUR CHILDREN
by Robin Hayfield
$16.95


FAMILY HOMEOPATHY:
A PRACTICAL GUIDE FOR HOME TREATMENT
by Paul Callinan
$14.95


FAMILY WELLNESS GUIDE:
FROM MOTHER EARTH WITH LOVE
(with 24 line drawings by Becky Ankeny)
by Tara Fellner
$18.95


FEEDING THE WHOLE FAMILY:
DOWN-TO-EARTH COOKBOOK & WHOLE FOODS GUIDE
by Cynthia Lair
$18.00


HEALTH HANDBOOK:
A GUIDE TO FAMILY HEALTH
by Louise Tenney
$16.95


HEALTH HANDBOOK:
A GUIDE TO FAMILY HEALTH
by Louise Tenney
$14.95


HEALTH HANDBOOK:
A GUIDE TO FAMILY HEALTH
(pocket-sized)
by Louise Tenney
$7.95


HEALTHY FAMILY HANDBOOK:
NATURAL REMEDIES FOR PARENTS & CHILDREN
by Louise Taylor Taylor et al
$18.95


HOMEOPATHY:
THE FAMILY HANDBOOK ---
A GUIDE TO THE SELECTION & USE
OF
HOMEOPATHIC MEDICINES
by the Editors of Thorsons
$9.00



PARENT'S GUIDE TO REFLEXOLOGY:


HELPING YOUR CHILD OVERCOME ILLNESS & INJURY
THROUGH TOUCH
by Kevin & Barbara Kunz
$16.00


PDR FAMILY GUIDE ENCYCLOPEDIA OF MEDICAL CARE:
A STEP-BY-STEP GUIDE...ILLNESS & INJURY
by the Editors of PDR
$23.00


PENNIES FROM HEAVEN:
101 MEDITATIONS
FOR
COUPLES TRYING TO GET PREGNANT
by Frances & Philip Stone
$9.95



RAISING HEALTHY KIDS:


A BOOK OF CHILD CARE & NATURAL FAMILY HEALTH
by Michio & Aveline Kushi
$14.95


TAKE CARE OF YOURSELF:
THE COMPLETE ILLUSTRATED GUIDE
TO
MEDICAL SELF CARE
by Donald M. Vickery & J. Fries
$18.00


UNTOUCHED:
THE NEED FOR GENUINE AFFECTION
IN
AN IMPERSONAL WORLD
by Mariana Caplan
$19.95